Tallinn, Estonia - 2011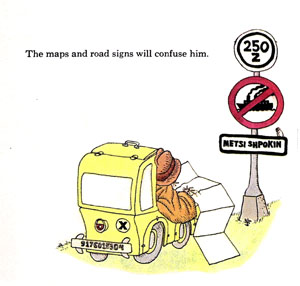 The American Tourist's view of Eastern Europe,
from the wonderful
"The Paranoid Abroad"
by Gahan Wilson.

(Click any image to see it full size.)

You cannot simply find yourself in Estonia one day. It takes work. It took us more than 20 hours, from the time we left home to battle post-Hurricane Irene traffic for two and a half hours just to get to the airport, then a connecting flight the wrong direction to Chicago and then overnight to Helsinki. Then we took the city bus to the railway station in town, and walked the final mile - to the ferry terminal. A two hour ride across the Baltic Sea, and poof! we found ourselves in Tallinn, capital of Estonia.
This was the jumping off point for a fice city tour of the Baltic region. First, a relaxing couple of weeks learninng to live like Estonians:
| | | |
| --- | --- | --- |
| | | |
| Old Town from downtown | Old Town from Parliament Hill | St. Olaf's classic pose |
Estonia is a total delight. It is busy, and happy to be. It is proud to have shaken off the USSR, proud to be in the EU, proud to be in the Euro, proud to be in the Shengen zone where no passports are needed. From nowhere, they've arrived at 33rd on the worlwide list of competitiveness, and their credit rating is just one one notch below the USA's.
The old town is the nicest we've ever seen. Most of the walls are still standing, except on the city centre side, which is directly across the street from the old town, providing a dramatic contrast. The buidlings are all quite low - three storeys - and the streets are quite wide - three lanes, giving the whole place an open, sunny, airy atmosphere. It's also extraordinarily well lit for night, which can last forever in winter. Estonians are very busy restoring and repurposing the 600 year old buildings. Every little cubbyhole is or is becoming a store. The central square is much like every other one you see, ringed with extraoridnarily boring beer gardens serving burgers, fries and pizzas to boatloads of Swedes, Russians and Finns who come for the day on an overnight cruise. They come for the cheap alcohol, and Tallinn accommodates, with dozens of alko shops in walking distance of the port.
We arrived on Tuesday, but we never saw a policeman or squad car until Saturday, when they suddenly appeared in Old Tallinn to cope with the inevitable drunks; the Northern Irish were in town for a football match the following Tuesday. Never heard a siren the first six days we were in Tallinn. Compare to New York, where if you don't hear a siren for ten straight minutes, there must be something wrong. Even compare to Riga in next door Latvia, where the old town is crawling with police all day long. Meanwhile in Tallinn, both the Irish and the police disapeared and life went on.
Downtown has gleaming towers beside old Soviet buildings. It also has Rotermann Center, the most stunning shopping plaza I've ever seen, comprising a dozen buildings each rehabilitated by a different architect. The result is an orange building, a brown one, a black one, a stone one... all connected by a stone plaza and alleys. The light poles use LEDs, and look like ultramodern trees, with a crown of branches up top, and roots speading as if breaking through the patterned stone in the ground. The outdoor seats are large plastic softcornered blocks, that light up at night. Rotermann Center also houses the Museum of Architecture, in the restored salt warehouse across the street.
| | | |
| --- | --- | --- |
| | | |
| Rotermann Buildings: Modules | Cubist | Steel Tubes |
If you do any exploring, you come across really good restaurants like our hands down favorite, Von Krahl , which has a formal dining room, a basement room and and outdoor terrace - all different. A great vegetarian menu upstairs was included, and even lists whether dishes include gluten, lactose or egg. The building was clearly a residence and the rooms are preserved as private dining rooms and intimate lounges. But the real star is the food, exquisitely presented, subtley seasoned and intringuingly innovative. And really inexpensive. I mean a three course meal with wine for two - €33. Most highly recommended. We went three times so we could try more dishes.
We also liked African Kitchen, and the hostel crowd dotes on Kompressor, a pancake house where huge, eggy pancakes wrap aound everything from smoked trout to sausages and cheese. We loved Sfaar, literally across the street from Old Tallinn. Ultamodern, pure white, its menu is Estonian nouvelle cuisine. A food adventure with local ingredents. Best service in town, to boot. There is a Culoinary Institute right in Old Tallinn, where they serve multicourse gastronomic adventures - but you it's a private party kind of thing, so we never made it past the streetfront windows. To date, Estonians haven't quite figured out what to do with chocolate, or breakfast pastries (Don't call them Danish!) or breads. Crusts are soft, and the wide variety of ryes doesn't seem to make for a wide variety of tastes.
| | | |
| --- | --- | --- |
| | | |
| Skyline | Old Town Main Square | Old Town Wall & Catwalk |
Despite the 600 year old cobblestone and rock (incredibly mastered by the stiletto heel crowd), windy little streets, you would be hard pressed to get lost. All you need do it look up, and see your relevant landmarks. Our apartment was across the street from Tallinn's signature building, St. Olaf's church, with its gigantic spire. St. Olaf's is a real Estonian story. Besides being almost entirely without religion, the whole country has gone internet mad, often (only half) jokingly calling itself e-stonia. Wi-fi is everyhwere; no merchant wants to be left behind, though precious few patrons actually carry laptops. Nonetheless, everyone has an electronic account with the government, covering healthcare, education, voting - you name it. St. Olaf's is fully rigged out with mutimedia among the many hundred year old pews, with speakers rising every couple of rows, monitors on the pillars and a giant flat screen front and center.
Meanwhile on the roof of an office tower right outside Old Tallinn, there is an outdoor cinematheque/bar, where the films have to start at nine because it's that light out in September. For €5 you get handed two blankets and a wireless headphone and you sit in your choice of 400 canvas folding deckchairs. You lie in them, so you look up at the screen and no one blocks your view. The opposite of stadium seating, where theater is three storeys tall to achieve the same effect. Here you watch the clouds and the stars around the giant screen. Very cool. We saw the classic Estonian 60s film Siin Me Oleme - The Holidaymakers - about a boorish Russian family from Tallinn who show up at a seaside farm and demand to be put up for their holidays. Merriment ensues.
Back on the ground, everyone seems to have gone Muzak crazy. Bad old American music appears to be the key to keeping the patrons interested. Right outisde our window was a Russian cafe, where they play old Bing Crosby songs (whoops there goes another rubber tree plant) all day - from 6:00am to 10:15pm, seven bloody days a week. This apparently makes the patio more attractive, though it's rare to have more than two tables occupied. Nonetheless, Bing croons all day long. For years. And no one in the building (except for us) seems to complain. There's music on the intercity buses - part of the bad videos they show, because you can't show films with four different subtitles. Bad pop, bad blues and bad technopop (redundant?) blare from nooks and crannies everywhere. Pointless, unhelpful background noise until late. Then the reief of silence transforms the city.
A large proportion of the 400,000 residents of Tallinn (a third of the country!) are actually Russians, left over from the bad old days. They have their own Soviet-style market behind the railway station, half the stalls in the central market, and restaurants everyhwere. And they are concentrated in the northeast of the country, closest to Russia. They have been a problem - "refusing" to learn Estonian, longing for the good old days when Moscow gave them free apartments and guaranteed jobs - of a sort. Estonia is fixing this by among other things, drafting young men in to the armed forces, where they learn Estonian.
Estonia is not rich, but it is working hard at it. Estonians make about a third of an American income, so every cent counts, unlike elsewhere in Europe, where we found merchants didn't even bother with small change. Here, if a bread is 41 cents, they want that exta centime; there's no waving it off. So everything was quite reasonable, though there is no problem paying exhorbitant prices if you so desire.
Stockmann is a huge, ultra-modern department store chain with a state of art grocery on the ground floor, and yet literally on the next block is the seven day a week Central Market, where we bought raspberries and strawberries for €2.25 a kilo. We bought cookies and decent breads from two of the six or so bakers - for €0.41 - and homemade pickles from Salme, who is the poster girl for Estonian peasant grandmothers and has probably been doing this for all of her eighty-some years. Yammering away in Estonian despite knowing we understood not a word, she gave us a sample of every kind of pickle she made, and threw in an extra one when the weight of our five pickles didn't come up to a third of a kilo for my one euro.
| | | |
| --- | --- | --- |
| | | |
| Bad old days | Exhuberant new days | On the other hand... |
This is the first trip where I didn't try to learn the basics of the language, not just because there are five totally different ones, but they also happen to be the five most difficult for a speaker of English. And it showed in the market, where I could not ask how to cook the wonderful variety of unusual mushrooms we saw, and even if I could, the answer would be beyond me. I know you have to boil certain ones before you fry them, but which ones? Fruit - just went ahead and bought all kinds of berries I'd never seen before, Some sweet, come sour, some bitter. Some red, some blue, some black, some orange.
In general, everyone is delightfully helpful, co-operative and pleasant. English is the lingua franca for everybody under 40. The kids running the alternative info booth on the next block from the official government info booth were wonderfully cheery, knowledgable and helpful. Every day they list the highlights of events of the day on a blackboard, and conduct alternative tours. We took the three hour Beautiful Bike Tour that led us out of Old Tallinn and showed us points east, including the national Song Bowl, built onto a hillside. The gently sloping, grassy terraces of the hill face a huge shell and its high array of steps, said to accommodate 26,000 singers at once. Estonians gathered there to sing their way out of the USSR. They called it the Signing Revolution.
Our apartment was at the northern end of Old Tallinn, just inside the walls of the old city. It was our home for two weeks. With that much time, we were really able to get in sync. We went to theater at a remarkable little place on a hillside called the Straw Theater, because it is actually made of straw, spray painted black and held in place by wire mesh and a hardened foam. Seats 181. It will of necessity, close at the end of September. Winter here is brutal. But Tallinn supports all kinds of theater, including at least four standard theaters, two children's theaters, and dance theaters. And ths is just in the Old Tallinn, and doesn't count the opera and the major venues. So we saw a multimedia recreation of Andy Warhol's The Kitchen, with the set behind the screens. Everyone had to walk through the set before sitting, and audience participation was central to the whole play. Great.
| | | |
| --- | --- | --- |
| | | |
| Nancy at Straw Theater beer garden | Wireless St. Olaf's | Nancy at Sfaar at sunset |
The Straw Theater has an outdoor beer garden and a covered staircase of tables along up to the door, something you would never be allowed to do in the USA. We saw all kinds of neat things you couldn't do in the USA, like a cast iron spiral staircase as the only access to the second floor entrance of an Indian restaurant called Elevant. Doors swing in or out - you have to check every time. Emergency exits at one place opened inwards - and were locked. Other things to note: despite the rarity of trash cans, the streets are immaculate. No one litters, and store owners take personal responsiblity for the street out front. Outdoor cafes provide blankets on every seat, because Estonians will sit outside as long into the fall as possible - not that summer is exactly steamy, either. There don't seem to be enough cars for traffic jams, and the cars we saw were always clean, just like the streets.
Outside of the Clockwork Orange Effect (I will never be able to hear Bing Crosby without throwing up), Tallinn is a really fun city. Bright, clean, positive, open. Terrific.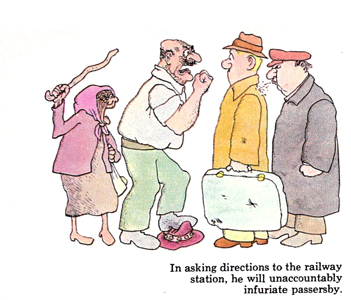 Stockholm &nbsp

&nbsp Home &nbsp

&nbsp Riga
.