Riga, Latvia - 2011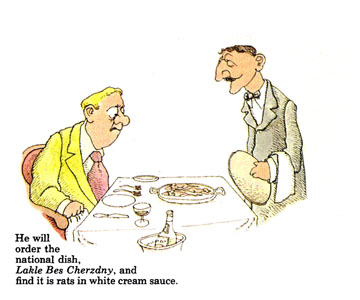 The American Tourist's view of Eastern Europe,
from the wonderful
"The Paranoid Abroad"
by Gahan Wilson.

(Click any image to see it full size.)

Incredibly for Europe, there is no train service between Estonia and adjacent Lativa, so we had to bus it four hours. The Riga Autoosta (bus station) is separated from the train station by Stockmann (Finnish Department store/supermarket). All I can tell you is, if you need to change currency in eastern Europe (and you will), find a Stockmann. All over Tallinn for example, forex counters charged US$1.70 for a euro, when the spot price was $1.43. That's a good quarter extra for every euro you buy. Stockmann's price was $1.45. So buy your Latvian Lats there, and trade in the remainder as you leave, because at $2.03 a Lat, it's worth it. I also bought our first day's worth of Russian rubles there, so we wouldn't be forced to use the forex counters at the airport, susally the worst of all.
We wanted to see Riga for the Art Nouveau buildings. Like so many places in Europe, Riga caught the Art Nouveau bug after 1900. Designers went crazy outdoing each other with 3D elements, brickwork, and ceramics. But Riga didn't go far enough; it never freed itself of the cameos, garlands and Grecian elements so prevalant in the Victorian era. So despite the very many buildings with at least some element that can be called Art Nouveau or Jugendstil, the overall impression is there is no distinct Lavtian Art Nouveau. We visited one designer's apartment, beautifully restored to its Art Nouveau glory, with fabulous ceilings and frameworks. It is slowly being stocked with furniture and tabletop pieces, and could well become the single most focused museum of its kind. Across the street a store sells nothing but Art Nouveau reproductions. All very refreshing for an underappreciated art era. I love that they recognize its value.
| | | |
| --- | --- | --- |
| | | |
| Splendid Art Nouveau Stairwell | Screaming heads | Jugenstil balcony |
Riga's old town was not nearly as charming as Tallinn's. The churches are brick, the old buildings have been rebuilt by the Soviets, and in general, you could skip it. It is difficult to find a cafe open for breakfast, but the one we found by St. Peter's (Domini Canes) was terrific. We both had porridge with cinnamon, black bread and white - both great, and we sat outside and watched the police and the empty tour trollies go by. Thus armed, we walked all day, not sittng again until an early dinner before the (even longer) bus ride home. The market beckoned, but for once we didn't go. It's a gigantic collection of four former Zeppelin hangars, with endless aisles of merchants. Fearing both nothing special and the urge to purchase way too much, we passed - even though it was directly across from the bus station. Instead, we walked every street of the old town and the Art Nouveau district. We found that in contrast to Tallinn's sprightly step, Riga dragged its feet. Far from upbeat, Riga was just plodding along.
Somehow, we avoided buying amber.