Sicily 2014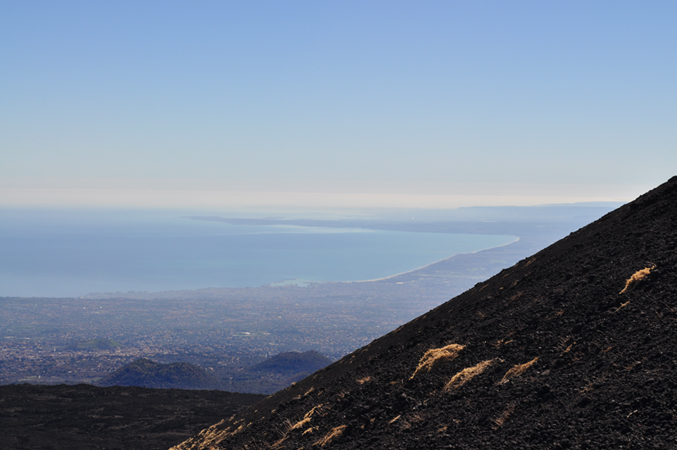 City of Catania on the Mediterranean, seen from halfway up Mt. Etna
(Click any image to see it full size)

Malta is just 75 miles south of Sicily, so it's hard to resist a day trip – a 90 minute modern catamaran ferry. Sicily's winter is really just January, when it rains pretty much daily. By mid February, the fields are lush green, the almond trees are already blooming, and the temperatures are comfortable. Unless you're going up Mt. Etna, which is snowcapped. Mt. Etna had erupted three times in the first six weeks of 2014, but was quiet the day we went. There are all kinds of craters that have self sealed from previous eruptions, and you can walk through them. The lava is not a solid surface, but a moonscape of jumbled rocks, gravel and dust. Mostly black but also brown, red and beige. There is a whole tourist village at the 6700 foot level (halfway up), and even a ski lift operation to take you to the top – for $40. The winds are ferocious, the food is terrible, the souvenirs unimaginative, and the trash repugnant. But Mt. Etna is majestic, huge and sprawling. Towns that are totally destroyed are rebuilt. We stopped in one, Nicolosi, and found an absolutely classic pastry and gelato cafe, that dripped of atmosphere. One of the biggest cities, Catania, nestles right at Mt. Etna's base on the Mediterranean, begging to be buried. Again.
| | | |
| --- | --- | --- |
| | | |
| Mt. Etna from 100 miles south | Granular black lava | Nancy at Mt. Etna crater cone |
The interior of Sicily is positively festooned with windmills and solar. Sicily actually produces more power than it consumes. We stopped in the spectacular (UNESCO World Heritage listed) Modica, built along a steep river valley. The bridge to bypass it is the tallest in Italy. The upper town is younger and wealthier, the lower town is old, historic, and lined with chocolate stores, which is what Modica is famous for. They do chocolate different in Modica. They don't cook it. The bars are mixed essentially cold, so the ingredients don't blend. The chocolate does not melt in your mouth. It is hard, grainy, and the tastes are unrefined. You can taste the sugar separate from the chocolate, which is quite bitter. In Modica they love to match ingredients to the chocolate, like cinnamon, coffee, pepper, and pretty much anything you can think of. An acquired taste. However, they do love to match all their chocolate with wines, a saving grace to be sure.
| | | |
| --- | --- | --- |
| | | |
| Modica, upper & lower town, at sunset | Pastry/Gelato Cafe, Nicolosi | Two walking through Mt. Etna crater |
Our trip was necessarily limited to the east coast, so we'll have to go back to see Palermo and the north. Damn.