Malta - 2014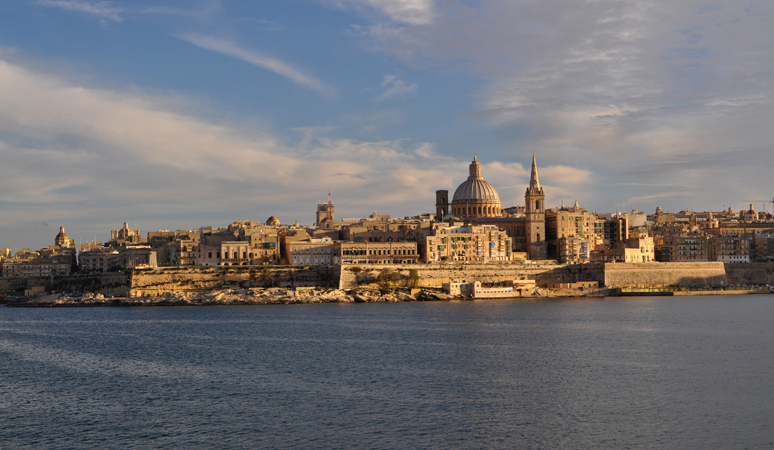 Valletta - the view from the gym
(Click any image to see it full size.)

When I thought of Malta (at all), I thought of dark narrow streets, suspicious foreign agents speaking heavily accented English, and mysterious foods and customs. An island densely populated, working outside the world economy. Where the seat of government is called the Palace of the Grandmaster, and the Knights of Malta are not just a bunch of old men meeting for lunch. So I just had to spend a couple of months there, because a week seemed pointless. Winter, especially the winter of 2014, was a good time for it.
Naturally, I was mostly off base (except about the winter of 2014). Malta is a lovely, really photogenic collection three islands, dividing the Mediterranean into two, about midway between Sicily and Tunisia. Its strategic location has made it a must have for countless empire builders, and so its history and archeology go back 7000 years. Its towns are heavily fortified with sharp cornered fortresses and high solid walls. Very intimidating, yet stopping no one, it seems. The architecture is a cross among Spanish, Italian, Greek and English. The individual towns are now totally connected so you can't tell where one ends and the next begins (if not for the signs). It seems like one big metropolis of 420,000 and their assorted cars (275,000 of them). There is constant gentrification, but it is still a jumble of mixed styles, mixed (lack of) zoning, and otherworldliness. The last time it was a colony, it belonged to England, and only became independent in 1964. The result is UK electrical plugs, driving on the left, steering wheel on the right and everyone speaking English as a second language, if not their first. It's a very different experience, and that makes it a delight to actually live in.
| | | |
| --- | --- | --- |
| | | |
| Isla, across from Valletta, Malta | Hallway in the Palace of the Grandmaster | Nancy with southside of Valletta behind her |
Those exceptionally narrow streets do exist, and in fact predominate. The Maltese are a patient lot, stopping while trucks unload, no one honking, in fact turning off their engines while they wait. When two cars meet on a ridiculously narrow two way street, one simply backs up – no argument. The sooner you co-operate, the sooner you move on. Impossibly narrow inside staircases means every delivery truck seems to have crane attachments to deliver to the balcony, window or roof as needed, and therefore blocking the entire street. Sidewalks (called pavements) are an afterthought, and sharing them is a constant bounce on and off. Streetlights are bolted to the walls, and electric wires run along the outside of the second floor. It's delightfully different, and they make it work.
Malta is a full member of the EU now, with no passport requirements (Schengen), and use of the Euro. It is a nation of small shopkeepers. Big box stores are few and far between, and shopping is a real, rare treat. You must learn what stores carry which items the long, hard way. Smaller stores, restaurants and banks close for three hours during the afternoon, as well as most or all of Sunday.
| | | |
| --- | --- | --- |
| | | |
| Stairs for sidewalks, Valletta | Feral cats everywhere | Dome of St. Paul's, Valletta |
Valletta, the capital, is a compact, dense little fortress of streets so steep they have stairs. Besides Stairs Street itself, many of the cross streets are stair only, no cars. The bus terminal at its gate is invaluable because almost every line starts from there, and you can get anywhere on the main island from Valletta for a single fare. A weekly pass is 6,50, right from the bus driver.
Probably the biggest disappointment was the restaurant scene. Pretty much every non ethnic restaurant had the same menu: pizza, burgers, pasta, salads and a fish of the day. Exceptionally unadventurous and in execution, boring. Same for bakeries. All the same, white bread-based loaves that despite different shapes and sizes, all taste the same. Pastries? Plain, white, unadventurous. Come to think of it, very English. Thankfully, there's Mint, right at the Ghadir bus stop on Tower Road in Sliema, four blocks from our apartment. It's a New Zealand café, where everything on the menu is right there in the display case. You point, they heat, and deliver to your table, either inside or out. One of the two cases is devoted desserts, by far the best café in Malta. Our salvation. The high class restaurant of Malta is Rubino. It's in Valletta, only has about ten tables and is only open three nights a week. A much more accessible high class place, also in Valletta, Da Pippo,is Italian, but with a great atmosphere and vibe. Prices are steep. For authentic Maltese at decent prices and a gorgeous setting, we loved Gululu, right on the harbor in St.Julian's Spinola Bay. We went twice and invited a friend the second time. He went back twice more.
| | | |
| --- | --- | --- |
| | | |
| Citadel of M'dina with Valletta beyond | Spinola Bay & St. Julian's | Limestone shore, Sliema, Malta |
M'dina is a hilltop fortress city ("The silent City") near the middle of the island, about 10 km southwest of Valletta. It is beautifully preserved and rehabbed, and now hosts gorgeous restaurants with magnificent views of Malta, right back across the island to St Julian and Valletta, as well as museums dedicated to the Knights of Malta, an upper class Roman home, and dungeons and church museums. M'dina was built out in the 1500s (having started 600 years earlier), but probably never looked this good – just menacing. Outside the city gate is a lovely esplanade, and on the other side is Rabat, a real working class town of tiny shops, big churches and archeological digs where individuals scrape with their bare hands and clean what they find with soft bristle brushes. The contrast between M'dina and Rabat is stark, and is a microcosm of the jumble of history and culture that is everywhere in Malta.
We stayed in Sliema, the town just north of Valletta, taking the ten minute ferry to Valletta for concerts, since January hosts the International Baroque Festival. There are concerts everywhere: In the 300 year old Teatru Manoel, in churches, and in the Palace of the Grandmaster itself. Sliema is an excellent place to base, with Valletta to the south and St. Julian to the north. Sliema still has its fruit and vegetable trucks, which park on every block or two twice a week, as well as bakery trucks. There are only two major greenmarkets: Paola outside the church on Saturday morning, and Marsaxlokk along the harbor on Sunday. Marsaxlokk is on the southern edge of the island, yet just a 20 minute ride on the express bus from Valletta. The harbor is lined with outdoor cafes to relieve the shopping pressure. You can buy pretty much anything in the market, as you dodge multicolored drydocked boats and lapping waves.
St Julian is the yuppified tourist town of Malta. Wall to wall bars and restaurants, all tightly within walking distance of the glass fronted condos that have overwhelmed the seafront. In Sliema, the sea is a little more respected, with a lovely broad walk on all three sides of Sliema that face the Mediterranean. You can walk and sit, there are lots of cafes, and if you're of such a mind, take the stairs down to the water and walk the solid limestone shore with its craggy inlets and rivulets and pools. A dogwalker's paradise below, a jogger's paradise above. Just north of St. Julians is Paceville, where the tiny restaurants and bars give way to serious clubs and discos and limos, giant, out of scale casinos and resorts. Those four towns are the main components of the heart of Malta's northeast megacity.
| | | |
| --- | --- | --- |
| | | |
| Typical fruit & vegetable truck | Church of St.Paul's Shipwreck | Manoel Island fortress |
Malta has a high ranking candidate for worst name for a company. The energy delivery service is called Enemalta. I think I might have at least considered something else.
There are three islands in Malta. Gozo is the second biggest, just north of Malta. Its geographic center, Victoria is also the high point, making it an ideal spot for a citadel, from which you can see pretty much everything on the island. The ferry lets you off at M'gara, where the bus costs 1,50 for unlimited use for the day, or a cab to Victoria and the citadel costs just four euros. Victoria is small, compact and easy to navigate.
Carnival is a big deal before Easter – three days of parades and costumes. Valletta's focus is family, and ravers head up to Gozo and the village of Nadur. In Valletta, the costumes tend to the elaborate and the historical, with boys as knights and girls as ladies. "Everyone" knows about the carnival, so no one writes about it. It has no website, no calendar of events, no nothing. Just show up.
| | | |
| --- | --- | --- |
| | | |
| Carnival, Valletta | All about the fluorescents | Valletta sunset |
Malta has a very comfortable climate, with lows around 12 (54) and highs around 17 (62) all winter. But be advised that the Maltese make no concessions to winter. Their buildings are not insulated or heated. People wear layers in their homes. In the summer it's in the 30s (80s), so air conditioning abounds, particularly since the high humidity can make it uncomfortable. But the humidity is no thrill in the winter either. This year there were major storms in Europe, that came over from the American northeast, which made January colder, wetter and worst of all, windier than usual. But by mid February, Malta was comfortable enough for swimmers to take to the Mediterranean, and sunbathers to appear everywhere. Pollution though, is a problem, with nearly one car per person, and preponderance of diesels, you can smell it, feel it, and cough it. They all do in Malta.
It's just a 90 minute ferry to Sicily, for less than 40 euros, so naturally, we had to take a side trip. You can see that here.
Everywhere we went, people were open, friendly and helpful. I became one of them, helping tourists with directions. We made friends with several people and got to know some of our neighbors. It's an easy place to live in, with thousands of tiny shops to keep you supplied. The skylines are stunning, the vistas magnificent, and the entire trip a delight.