Panama 2010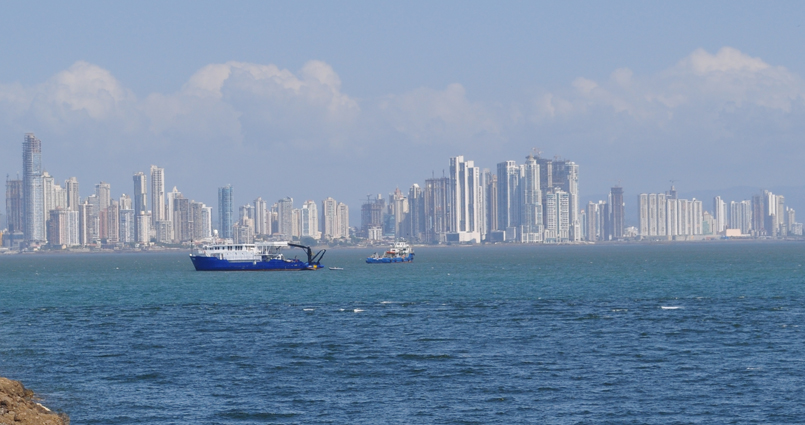 Panama & Hong Kong: Separated at Birth?

(Click any image to see it full size.)

We found ourselves going to Panama without ever intending to. We were actually looking for a flight to from New York to LA. It came in at $259 - not terrible. But then I noticed a Continental flight to Panama - for all of $25 more. So I figured it had to be a nightmare flight, overnight probably, with a change of planes and terminals in Miami or worse. But no. It was a nonstop, getting in at 10:40 PM. Plus Panama is in the Eastern Time zone, so not jet lag. Plus they use American money. Plus they use 110V electricity. OK. So where is it that I sign then?
"Dear ... slight change of plans this winter."
"Panama? ... Panama???"
Panama City is really Panama. The city has a population of just under two milllion, but there are only three million in the whole country. So Panama happens in Panama City. Panama positions itself as the Miami of Central America, but for us, it was much more like Hong Kong. The extreme poverty right up against the intense luxury is striking. Crumbling neighborhoods next to glass towers. Transit consists of recycled school buses painted as wildly as possible, taking everyone pretty much anywhere, for pennies (though they are now building a Metro - with Chinese money). In the poor economy, you can eat like a king for two dollars, but when you come up against the rich economy of taxis and fancy restaurants, the prices are international.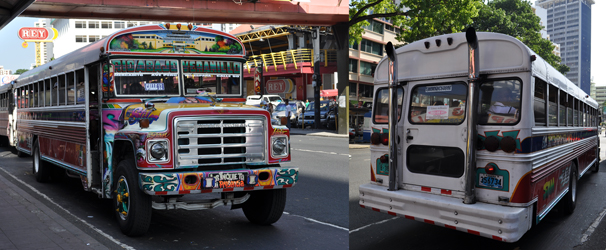 School was never like this
My usual trip through the good old Yellow Pages revealed the biggest section by far was healthcare, at 23 pages. More than restaurants; more than anything. Panama is inexpensive medicine. Americans come by the planeload to escape the nightmare of US healthcare. Hospitals and clinics are all over the city - ultramodern, welcoming .... totally unlike US institutions. Surgeries, dental cllinics, full fledged hospitals - they've got it all, and they market themselves professionally and in a big way. And of course, in an expected perverse twist, it is often with American backing, allying or affiliaitng with the Panamanian providers, lending their "good name". Too bad they can't help us at home. This is fast becoming a healthcare mecca.
And I mean fast. We have not ever seen so many construction cranes in years. There are at least two dozen towers going up in the downtown alone. The skyline is truly reminiscent of Hong Kong, with towers lining up along the harbor snd stacking up the hillsides. They're all tall, ultra slim towers with very small footprints. But these days, that doesn't stop them from reaching fifty stories. Gleaming towers everywhere, making this a true boomtown, so different from the sad state of real estate in the USA right now. And Americans are flocking to Panama for the endless summer, the great tax treatment, excellent healthcare and the fact that this is about the last place where dollar is king. You can hire a live-in maid for $140 a month. So retirees who can barely manage back home, live the life of Riley in Panama.
Tocumen Airport was a pain. It took ten minutes before they opened the door of the plane, and 15 minutes before an immigration agent showed up to stamp our passports. We thought we were finally out of there, but no. We had to line up again to have our luggage x-rayed - on the way in! (On the way out, they begin boarding an hour early, because they hand search every carryon at the gate.) Not a good start. But then, flying has long been the most painful way to travel. (Sigh.)
Our hotel was actually a Las Vegas style casino, which we ignored. Veneto is beautifuly located on the western edge of the banking district with all its towers, and there right in the center of the restaurant distict. We found Calle Argentina, a lovely L shaped street, chock full of restaurants of every stripe, plus a great little grocery and the only decent bakery (El Mundo del Pan) that we found the entire trip. Forty cents for an artisan, flower shaped bread called a Floresita, for example. We bought a bag full of breads and pastires for $2.70. That of course wouldn't get you a single loaf at Fairway.
We walked far more than anyone could imagine, being New Yorkers at heart. Tourists take cabs everywhere. Everyone was always amazed that we had walked anywhere, let alone a three hour walk. The hotel likes to characterize the city as 1) dangerous and 2) HOT. Hot it was, but you know you're going to sweat, so just bring a water bottle and enjoy the view. Dangerous it was not, though at one point three locals got together to discourage us from going in the direction we were. Women should not wear jewelry. Hide your camera, wear your cheap watch. Just common sense. As one security guard told us - it's just like any city; it has its good neighborhoods and its bad ones.
We walked the length of Balboa along the harbor, from the business district to Casco Vieja, the charming old town, where we stumbled upon the last day of the outdoor Panama Jazz Festival. The streets were blocked off by the police, and you had to go through a metal detector to get in. Nice touch. We were hot and tired, and went into a huge department store, not to buy, but because it actually had air conditioning. It turned out to have a cafe on the top floor, so we figured why not? Cafe Caney turnred out to be a cafeteria, and very popular with the locals. We stood in a line of about 50 to get to the counter with our trays. Huge portions of local cuisine. And it was of awesome quality. Cost us four dollars for both of us. And we found many other cafeterias in our travels here. Panamamenos like their cafeterias.
| | | |
| --- | --- | --- |
| | | |
| Panama Canal, trains & bridge | Restaurante Casa Vegetariana | Five dollars. We splurged. |
The king of them all happened to be right across the street from our hotel. La Casa Vegetariana (Avenida 1ra A Norte y Avenida 4a Norte) is owned and operated by a short Chinese man with coke bottle glasses, straight out of Central Casting. The walls are plastered with pink posters, hand written in marker, translating Spanish to Chinese, and listing the drinks they sell. The decor is old cafeteria, with old bridge tables, mismatched chairs, and white tile. But the food is great. There are about 30 choices, fifty cents each. And they change during the day. You just point, and they ladle. No meat or alcohol allowed, says the only professionally printed sign. We went six times. That has never happened on any trip we've ever taken. But we found the genuine item. Didn't even get to try everything. The owner is there all day and all night, seven days a week. And the variety of patrons goes from Rastas, to hotel workers, to cabbies, to musicians, to suits. Everyone who eats in gets a free bowl of vegetable soup served to them by the busboy. Everyone who takes out pays and extra 15 cents for the sytrofoam clamshell. Oh, and the music blaring from the countertop speakers is classical - Chinese classical. The food ranges from pure vegetables (best frijoles ever) to Panamanian (empanada vegetales), to Panama-China fusion (mushroom-sweetpotato patties), to Chinese (Bao Vegetales). A totallly iconic institution, not-to-be-missed, authentic eating experience in the center of Panama.
Street food was a major disappointment. I always look forward to eating really different, freshly prepared stuff from vendors who disappear. In cities all over the world. Unfortunately, food carts in Panama range from hot dogs to ham and cheese sandwiches, and nothing but hamburgers in between. Aburrido (Boring!).
The big American-style supermercado chain is called Rey, and there's one on Calle Espana, the main commoercial street, just two blocks from the hotel. Open 24/7, which was very handy. Nice little cafe in it too.
Wine was the big bargain. We had a bottle of Malbec in one restaurant for all of $12, then saw the same bottle in Rey for $10.97. Can't beat it.
Meanwhile in condoland, the streets are empty because everyone drives. There are malls, with giant grocery stores like Super K Kosher Market, and bakeries where pastries cost $2 and are no better than the local panaderias, where they cost 25 cents. This seems to be the only area where you can consistently (maybe too strong a word) find street signs, although on the main harbor road, Balboa, they come with billboards for real estate developments and agencies hanging below them. Downtown and points west are all about condos, brought to you by the usual suspects: Citi, BBVA, Scotiabank, and friends. Towers everywhere with their names atop. BBVA even has a branch on the ground floor of the giant Johns Hopkins International Hospital.
| | |
| --- | --- |
| | |
| Gehry Museum, Amador, Panama | Brown spider monkey & fans |
We rented bikes on the Amador Causeway. There are four bike rental places in Panama, and sadly they're all on the Causeway, making them essentially useless for travel in town. The causeway connects the city to three little islands at the mouth of the Panama Canal. Along the way, you pass what will shortly be a museum. But for now it is the most fascinating skeleton of a building, because it's a Frank Gehry. Worth a photo. Ironically, no swimming is allowed from the causeway, despite the many little beaches. In fact, the nearest beach to Panama City is fifty miles west. Again, more like Hong Kong than Miami.
Parque Metroplitano, walkable if not for the fact you have then have to hike up the mountain when you get there, has four delightful paths that take you past unusual trees, animals, and birds. We counted a good ten varieities of butterfly ourselves, including the gorgeous, iridescent morphos, those huge, electric blue butterflies you only ever see pinned in a glass box. There they were, just flying arund us. The reward for your sweat is a clearing at the top, about 135 meters above sea level, with views in all directions. You can see the city, the canal, the mountains - everything. Well worth the $2 admission.
Farther up the canal there's a botanical garden with a lot of native animals in cages. Most impressive was the Harpie Eagle, a giant bird with a huge cage that I'm sure is less than 1% of his territory. I also walked a path through the rainforest of Soberania, through the total quiet, with only the batting of butterfly wings and the occasional rustling of leaves by some lizard to disturb it. Delightful. That I would have done all day if we had the time.
Not enough can be said about the vareirty of trees in Panama. We saw trees with spikes growing out of them from two meters up. We saw trees with red bark that peeled and flaked. Trees with bright yellow and green bark, bulging in the middle. Blue bark, roots that join the tree a meter off the ground, trees with a solid wall of roots to the meter point. You're not in Kansas any more.
| | | |
| --- | --- | --- |
| | | |
| Bottle-shaped | Spiked | Knobbed |
| | | |
| --- | --- | --- |
| | | |
| Indio Desnudo tree | Air roots | Bamboo |
The canal locks are impressive, raising ships that barely fit, 25 feet in about 8 minutes. Ships are now so big they have have build a new set of locks to accommodate. In the mean time, four bright silver train engines tie up to each ship and follow it along to prevent it from scraping the solid concrete walls they clear by centimeters in some cases. Just a little extra service for the $120,000 cost of using the canal. The Panamanians are fiercely proud of owning it and getting rid of the artificial canal zone that cut the country in two. And they are working to make it all world class. We were delighted with our accidental trip.
.