Mont Saint-Michel - 2016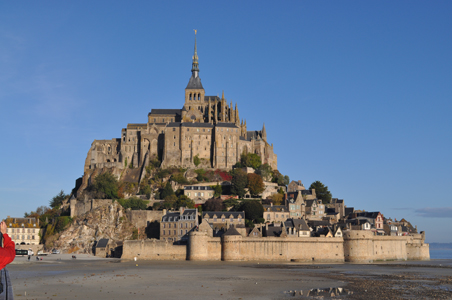 (Click any image to see it full size.)

Possibly the most difficult task is describing Mont Saint-Michel without drowning the text in superlatives. Let's see how far we get. Mont Saint-Michel is a fortress monastery on a rock in the English Channel, just a kilometre offshore. It is celebrating its 1050th anniversary this year – it was begun in 966. People dragged building materials out across the muck during low tides, and dragged them up the very steep hill. Over centuries, it became a chapel, a church, a fortress and an accompanying village outside the walls. It is a stunning sight, including at night when it is illuminated from below. The country does everything to preserve and maintain it, even building a causeway so tourists can get there at high tide, when it reverts to island status. And the tides here can be tremendous – 45 feet the day before we arrived on the 20th of October.
| | | |
| --- | --- | --- |
| | | |
| Walking at low tide | First view inside the wall | Main street |
The abbey costs nine euros, and for that you walk through a maze of halls and hallways, in full gothic threat. Straight outta Central Casting. It was interesting to note that outcroppings of the granite base occur right up to the top building. They did not build high; they used the base rock as the anchor and worked with it, rather than torturing it. There is no longer a school, and few natural-born natives. Almost the entire industry of the island and the surrounding villages is Mont Saint-Michel tourism. I don't think I've seen a place more photogenic, more awe-inspiring, or more serene. It is quiet (when the tourists leave, or when you can find a spot on the seaward side) and peaceful. It has withstood countless attempts on its nationality, and is simply an absolute must. Everyone should have Mont Saint-Michel on their list.
| | | |
| --- | --- | --- |
| | | |
| Abbey Chapel | Shadow | Looking up from the cloisters |
We stayed at Auberge de la Baie, a converted farm operation. Across the street is a working farm, clear cut, so the view is Mont Saint-Michel, alone and impressive. The hotel was exceptionally welcoming, clean, and comfortable. Breakfast was perfect, and it is possibly the most reasonably priced of the lodgings. We paid a quarter of the price of a cramped room on Mont Saint-Michel itself. We walked two km to the village, where the free shuttle takes people across the causeway. No cars allowed, except for locals, mostly merchants, who can only park for a couple of hours before they get ticketed. The French government wants this to be as authentic as possible, and it is doing a terrific job.
The train lets you off in Pontorson, where bus route 1 – the only route - takes you in a straight line to the causeway. Taxis may or may not be available. Pontorson has a unique feature right across the street from the station – a private water tower built of reinforced concrete to look like a cradle of trees. It was built in 1870 by the Moniers. M. Monier was rich from inventing, well, reinforced concrete. His manor house is in terrible disrepair, but his water tower is a national treasure.
| | | |
| --- | --- | --- |
| | | |
| Unique concrete water tower | Auberge de la Baie | View from Auberge de la Baie |
We heartily recommend an overnight stay, so you can see Mont Saint-Michel in all its shadings. It's been photographed to death of course, and postcards, placemats, books and posters are available everywhere, but seeing it for real, with the sun glinting off the windows, or with black clouds framing it, or with flood lights illuminating it – is an endless pleasure.
Bordeaux &nbsp

&nbsp Home &nbsp

&nbsp Fontainebleau