Bordeaux, Médoc - 2016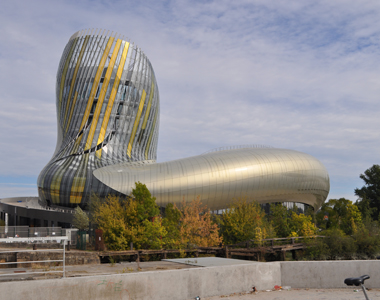 The Musée du Vin, Bordeaux France
(Click any image to see it full size.)

We went back to Bordeaux because we had unfinished business – we hadn't taken a vineyard tour our first time there. It is not cheap to rent a car in France, and the police are enormously strict. I have seen reports of tickets for one km over the speed limit. And the tolls are world-famous. Plus, driving from vineyard to vineyard means you have more alcohol in you than allowed, and you don't get the same welcome or tour that the official tour bus from the region gets. So we took the tour bus offered by the city.
| | | |
| --- | --- | --- |
| | | |
| Chateau Lagrange | Chateau Pichon-Longueville | Pichon Stash |
We visited three vineyards, and ate lunch at the middle one. Each one provided three wines for tasting and discussion. All were Médocs, but you could take similar tours of other regions. A great tour put on by Bordeaux, which is a great city. It works ceaselessly to improve and clean the center, and rehabilitates where it makes sense. Only two of the riverfront buildings are original to the 1600s, for example. The Musée du Vin is ultra modern. It was disappointing after the dynamic Guinness Museum we visited the week before. It was basically videos, in theaters, on tv screens, projected onto walls and in cubbyholes. All of it could have been more comfortably watched at home. Interactivity was mostly squeezing little pumps to get different aromas that one encounters in wine. And Bordeaux has no skyline, so the top floor wine bar was not one of the highlights either.
We ate exceptionally well, notably at Café Dan, a hole in the wall in the city center, run bya young Bordelais and his Hong Kong wife. The food, as you might imagine, is creative fusion – local produce with Asian contexts. Very subtle, very imaginative, and delightful. They've been visited by Michelin informally and with very positive views, so watch out. Two seatings, 7 and 9. Reservations critical as it only seats about 24.
We stayed at Patio de L'Intendance, a B&B right at the center of town, on the widest shopping street, two blocks from the tourism office/tour bus, and walkable to the wine museum as well as the SNCF station – which we did. Our room was much larger than an entire New York studio, with our own atrium patio, and our own breakfast table inside. The bed was a full king, which is so unfortunately rare in Europe. Totally and utterly quiet. We were delighted. These B&Bs are a trip, as owners get to live out their design and color fantasies at long last. The walls were different colors, the lighting was revolving colors, and the furnishings were colorful. And you can drop off your bag just after noon, so you can wander freely. Pierre, the owner, is an urbane delight to talk to, interested in your story and your impressions. Plus he liked my French, so he can stay. It is however, a three flight walk up as he is only two years into applying to install an elevator.
| | | |
| --- | --- | --- |
| | | |
| Flower field | Chateau Margaux | Grapes ready |
Nancy is ready to go back, and many French are moving there as a more livable, less expensive alternative to Paris, which is just three hours away by train. The ride was 26 euros each way, and as another couple we met (who rented a car in Aix) pointed out, the tolls alone were 50 euros. Thankfully, there is the internet to show the way.
This last shot was taken a 5:30 am in the Montparnasse waiting room.The SNCF has taken to installing mobile charging stations, with bicycle gearing. It LOOKS like you have to pedal to charge your phone. Oh, those French.