Belgium 2010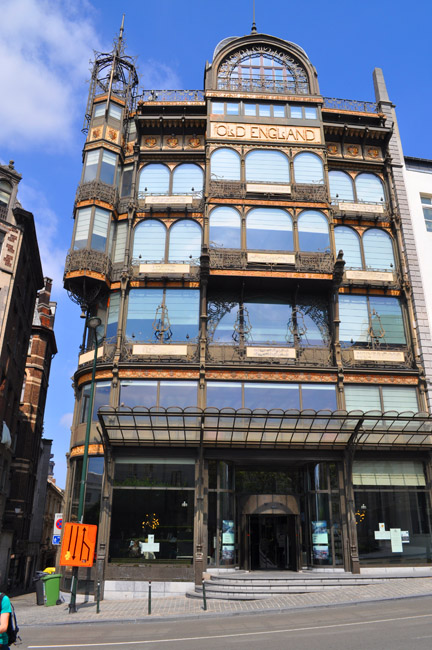 Old England men's store, now museum

(Click any image to see it full size.)

When I told people we were going to Brussels, their eyes glazed. A city choking in government - how boring. In addition to it being the Belgian captial and largest city, it's also home to NATO and an ever expanding universe of European Union agencies, departments, councils, committees, commissions .... See: "boring". Once you've been to Grand Place, spent 20 seconds in front of Manneken Pis and another 20 in front of Atomium - you're done! Not to put too fine a point on it, Douglas Adams said in the Hitchhiker's Guide to the Galaxy that "Belgium" was worst, most vile swear word in the universe!.
But that's not my Belgium, and not my Brussels. I've been there several times, totaling months, and my Brussels is where Art Nouveau was founded by Victor Horta in 1894. His house is a museum anyone can visit. The period stretched only until after the first world war, when ironically, another Belgian, Henry Van de Velde, tried to make it mass market, and instead presided over its demise. But for me, Brussels is eye candy writ large.
| | | |
| --- | --- | --- |
| | | |
| Great ironwork | Great ceramics (CLICK IT!) | Great stained glass |
Brussels has finally woken up to its treasure of Art Nouveau. Self guided walking tours pinpoint houses and routes to follow. Naturally, these are private homes and you can't go in just because the stained glass looks so infinitely much better from the inside. But you get the idea, and the idea is fabulous. Unfortunately, as Brussels becomes the European capital (it is two hours from all the major cities of Western Europe, and a two hour plane ride from most of the others), office buildings become the norm, and old houses give way. We can only hope the city and the country wake up and curb the losses of architectural heritage. But then, I love Art Nouveau, and this is the place where it is most on display in the world.
| | | |
| --- | --- | --- |
| | | |
| Hybrid Model | Steel-the defining medium for Art Nouveau | Stained glass- what a staircase that must be! |
In Bruges, just an hour west, Belgium has a true gem. Canals dug 500 years ago from the coast gave Bruges access to the sea and tunred it into a vital, critical trading city. The entire town is encircled by a canal, and many minor canals interlace it. (And lace is the key word, because lace is what made Bruges. They still make it.) That's pretty, but the fact that everyone has kept up the look and feel of the 1500s, 1600s and 1700s is what really separates Bruges from the pack. It's just a photographer's delight, and tens of thousands of tourists clog its streets every weekend.Look up, and you'll most likely see the year of construction built right into the facade of most buildings. Way cool.
| | | |
| --- | --- | --- |
| | | |
| Bruges storefronts | Approaching town square | Canal intersection |
Sadly and expectedly, its stores have in recent years been given over to the tiresome worldwide chains, so what you can shop for is precisely the same here as everywhere else. There is one exception - chocolate. Belgium is famous for chocolate, and in Bruges the shopowners try to leverage every millimetre of that. There must be 50 chocolatiers in Bruges, each claiming to be the best in Belgium. This is in addition to all the usual suspects, who are all represented on the streets and squares and truffles.
We were escorted to Bruges by our long time and great friend, Daniel Skala, who gave up most of his enormously busy weekend to be with his friends from America. We dined, quaffed, and toured, and it was clearly a major highlight of our trip. Easily our best meal of the trip was La Porte Des Indes, a fabulously decorated trip to the Raj, with food to match. Had we known there was one in London, we would have eaten there, too. Despite the huffing and puffing, London' restaurants are till London restaurants after all these years. Daniel drove us back to Brussels to the collected best of Creedence Clearwater Revival. Can't top that. Thank you, Daniel.
| | | |
| --- | --- | --- |
| | | |
| A Michaelangelo - the town's treasure | Bruges-as seen in the film of the same name | Nancy, Daniel and Dorian |
.