Helsinki, Finland - 2011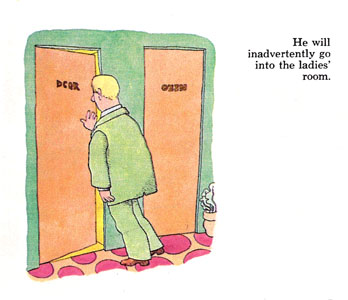 The American Tourist's view of Eastern Europe,
from the wonderful
"The Paranoid Abroad"
by Gahan Wilson.

(Click any image to see it full size)

Early September is a great time to visit the Baltic, because the temperatures have moderated, and the North American tourist flood has abated. It was in the teens (low 60s F.) the entire time, which is great for walking all day, and sleeping at night. It rains nearly every day, for 15-30 minutes, and you never know when, so you always need to carry an umbrella. And a cloth bag, because stores tend to charge a lot for plastic bags - like US$0.35. That can really add up when you shop every day, so we learned a couple of trips ago to just bring one along.
Helsinki is easy to get comfortable in. It's got a really vibrant, bustling, compact downtown, hilly neighborhoods surrounding it, and sprawling suburbs beyond. In a lot of ways it feels like San Francsico. We spent one whole morning wandering the streets of a funky neighborhood in the design district, so called because hundreds of businesses are focused on modern design. The district is therefore filled with bookstores, second hand stores, and cafes and bakeries. Unfortunately, like all the northern Baltic states, Finland is terribly expensive. Eight dollars for a cup of coffee. The same raspberries that cost us less than three euros a kilo in Tallinn, cost five euros for a half litre (a quarter of a kilo) in Finland. We bought two salads for €19.25 ($30). Prices are breathtaking. The baragin of the trip was the 615 bus from the airport. Four euros and it stops right in front of the terminal and at the central railway station.
We stayed at the most famous hotel in Finland, the Kamp. It has been open since 1887, so they've more or less figured it out, and now it now surrounds the Kamp Galleria, whose huge dome, constantly changing color, provided a most intersting view out our window. Especially considering how elegant and restrained the rest of the architecture is.
It was National Bread Week when we were there (second week of September), he said, without a smirk or any hint of sarcasm. Really. Bakers all over Helsinki produced special breads to impress. Free samples galore. I was delighted the Finns take their breads so seriously. Still, the best was delightfully unsweetened cinammon pastry, sprinkled with cinammon. Wonderful.
| | | |
| --- | --- | --- |
| | | |
| Design District architecture | Helsinki Harbor | Kamp Galleria Atrium, blue period |
A really cool place to go is the Torni Tower, a narrow tower atop the Torni Hotel just a block west of Stockmann. The tiny elevator takes you to the 12th floor, and you have to climb the tightly wound spiral staircase, worthy of a submarine, to get to the bar. But the view is fabulous, from inside or outside on the two decks. The view from the women's bathroom is actually famous here, as the best place to pee in Finland, and possibly the world. And a bargain. Peeing at the reailway station costs a euro!
We had a delightful Finnish soup lunch at the essentially unknown, and totally unmarked Hakaneimi Hall, a small market buidng just south of the seaport market. The restaurant was just a double booth, half for the kitchen and half for the seats at narrow counter tables. We also bought great vegetarian salads at another booth (with tofu Finnish meatballs no less), from a woman who greeted us with "So, what's your problem?" The beginning of a beautiful relationship.
Can't say enough about the huge Stockmann department store. It's grocery easily outdoes Whole Foods in selection, decor, lighting, and cashiers. The department store outdoes Macy's. This is a great chain.
The architecture of Helsinki is restrained. Tasteful, not garish, without a lot of fussy gables and turrets that suck heat out of buildings. They make up for it in colors, and the whle city seems extremely elegant and well kept.
If you go, check facebook.com/nordicoddity for a catalog of stores with inappropriate names (a record store called Stupido, another called Sound Pollution) usually English, and odd practices, like free pizza making.
| | | |
| --- | --- | --- |
| | | |
| View northwest from Torni Tower | Straight down from Torni Tower | WC, Torni Tower |
Just by the way, after flying over a milion miles with American Airlines, this will be the last time we ever use them. It began last spring. I had saved 110,000 miles to use on a business class trip to Europe, but when I tried to book it, I discovered they had cut the value of my miles in half - the price of a free ticket now only got you one way. So not only did we not have enough for business class, I had to spend $400 to buy additional miles just to go economy. We had to fly in the wrong direction for Europe - driving to Newark to get to Chicago to get to Helsinki. And we we didn't get the vegetarian meals we always did - as I had in our AA profiles for years. In Helsinki, I called the airline to make sure this wouldn't happen on the return, and was told it was too late, too bad, they're sorry. They don't use the profile for your preferences. You have to call in specifically, and in a certain time limit. When were they going to tell me they no longer used my proile for my flights and when were they going to tell me about deadlines? I said I hoped they would report this complete uselessness, but the rep told me to log onto aa.com and file a complaint there, because she could do nothing about my problem.
When we got to the airport we answered the security questions and got in line to get new boarding passes for some bizarre reason - or none, really. Then they told us we didn't have to stand in line, but to go to the gate. When we got to the gate we had to go through the same AA security again and they checked us off their list. But before we sat down we were told were not on this flight(!). We'd been put on a Finnair fllight to New York. Considering we were going to New Jersey, I didn't find this acceptable. The gate agent couldn't believe I didn't want the Finnair flight. It went to New York, just like the AA flight. I said Newark. She said JFK is New York, and I repeated Newark. You can't just take me to another state and leave me there. I was clearly steamed, and she put in three calls to bump someone else. There was no notice, no e-mail, no compensation - just go to JFK and be grateful we're flying you at all! Wacko. Then to top it off, Nancy was "randomly selected" for a full security check where they unpacked everything she had and checked her body. When we went to board it turned out they clipped the wrong pass and we had to step aside to get new boarding passes. By the time we got to our seats in the center three instead of the window and aisle I had selected last summer, we sat down facing the bulkhead and had no place for our hand luggage, since there was no seat in front of us. And of course, no vegetrian meals on the nine hour flight. We had to shop for four meals and shlep them around with us and on board. So thanks American Airlines. You can keep it.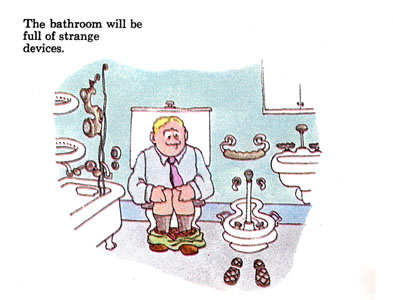 St. Petersburg &nbsp

&nbsp Home &nbsp

&nbsp Stockholm
.